What a long weekend, long and disappointing. With the Super Moon this weekend, I was sort of optimistic about the outcome. I figured the tarpon would be in the passes all night, feeding on crabs as they get flushed out on the strong outgoing tides. Still, I thought if a well-placed pin fish was presented to a rolling pod, at least one of them might eat it. I was so wrong.
Saturday, June 22nd
Greg Becker joined me and my friend Rik Llewellyn at a local beach about an hour south of my house. Quickly getting my act together, I paddled out to join Rik who was already on the water catching bait. I got no farther than 75 yards off the beach when this huge tail came slapping out of the water right next to my kayak, scaring the ever-loving life out of me. "Oh yeah, they are milling right there" yells Rik. Calming my heart down, I looked back towards the beach and sure enough, there was a pod just milling around on the surface. 6:30 am and we are already seeing fish. "Oh man, it's going to be a good morning" I said to myself.
Once we all caught enough bait, we turned back towards the beach and those fish were still right where they had been all morning. Now this is the part where I wished I had put away the pole and grabbed the camera, because I missed some very good pictures. This pod was about 100 strong, milling on the surface, tail slapping, "Happy Fish" we call them. "Happy Fish", Pfffffttttt, I would prefer "Hungry Fish". Rik had a couple of his baits get "Crushed" but no hookups. When a say crushed, thats exactly what happens. The tarpon come up behind these pin fish and crush them with their mouths, but dont swallow them. You never really feel any weight on the line, yet your float goes under only to pop right back up a short time later. Rik quickly re-rigged by hooking a pin fish in the tail and was immediatley rewarded with an airborne tarpon. And as quickly as he hooked up, it was over. We kept at these fish for another 45 minutes or so and then they just vanished. With no more good opportunities the rest of the morning, we were off the water by 9:30. Back at it the next day.
Sunday, June 23rd
The "Super Moon". Yep it was big and bright. To me it looked no different than all the other full moons. Arriving at the parking lot, I could see that a few of the guys were already out on the water getting bait. I quickly joined them and we all set up along the beach and waited. And waited. Waited some more. Did I mention we waited? Talk about slow, it wasnt until much later in the morning that I spotted the first pod coming our way. Unfortunatley so did the guy in the flats boat. We watched from at least a half mile a way as they hooked up on the first cast. Oh yeah, the guy was fly fishing. I dont know what it is about a little old fly, but tarpon love them. It almost makes me think we are using the wrong stuff. Eventually that same pod came right for me, I made a good cast and watched in disbelieve as the entire school rolled right over my float. "I know they see it" I thought. "Why dont they eat it?". Good darn question. Maybe there is something to that fly fishing after all.
As the morning dragged along, we only saw sporadic schools, a few of the other guys had some shots but no one hooked up except Native Watercraft Pro Staffer Dave Harper. He had one on for a split second, but the hook pulled.
Since the action had drastically slowed down, I broke out my new Nikon D200 and played around a little bit.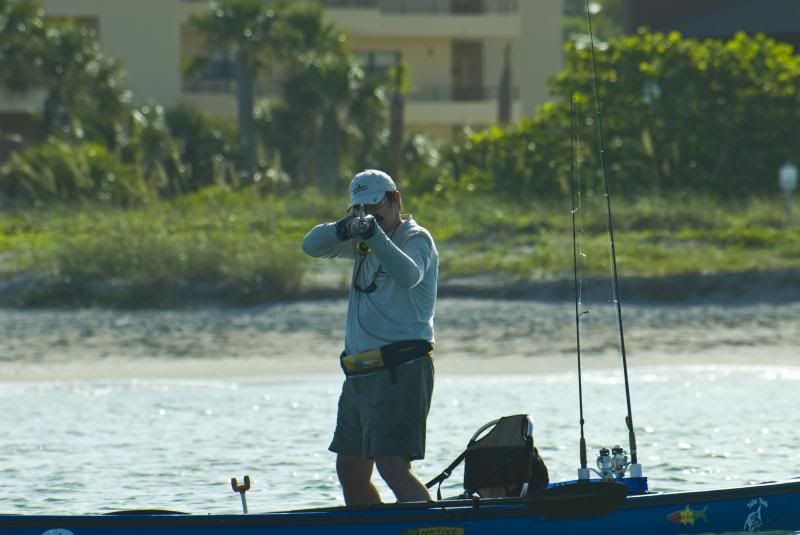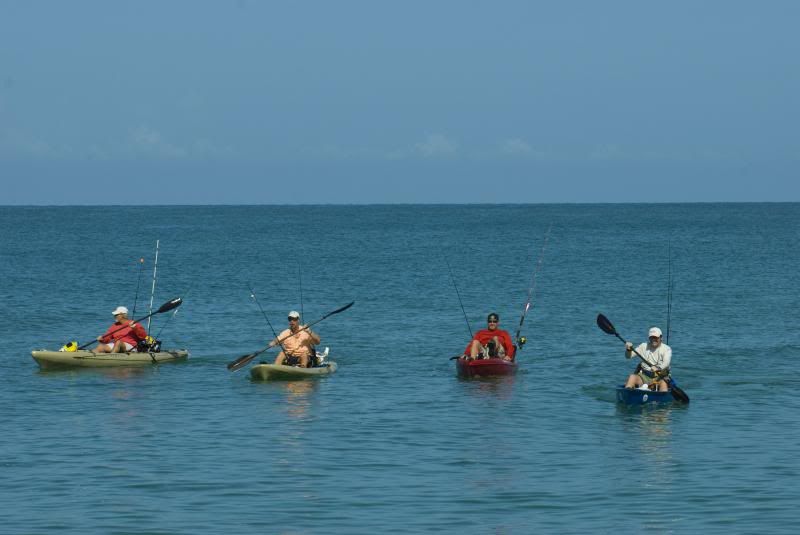 So this weekend was a total bust, but I will be back out on at it next weekend, Until then....................