"Did we get my fishing poles?" That's right; we drove and left them behind. Well, it all worked out in the end as Norm called another pal of ours who was coming over to fish with us. Sully hadn't gotten too far yet, so he swung by Norms place and picked up his poles. What a way to start a tournament weekend.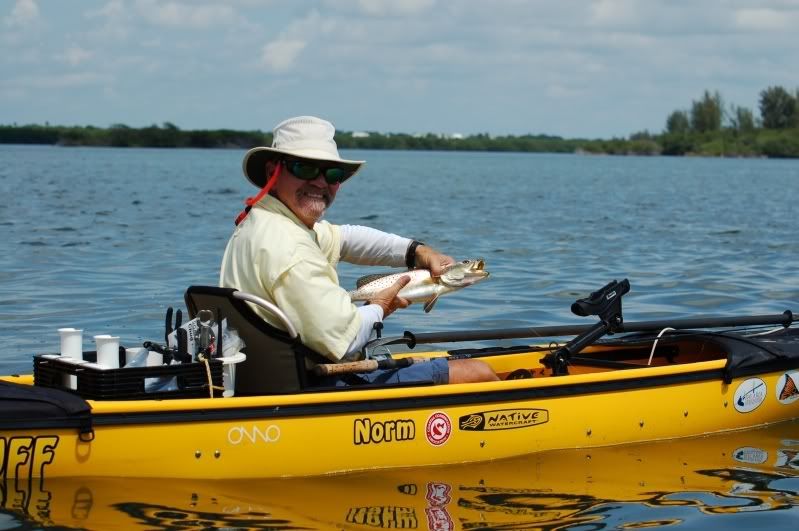 We arrived around 8am to our first pre-fishing spot, Round Island State Park. I had fished this spot once before, but had not had much success here. Located on the east side of the Indian River, it has many small coves and back water areas, but since the tide was low, we concentrated our efforts out on the flats. The first thing we noticed was the huge amount of mullet everywhere, big schools of them all over the flats. Now back here in Tampa Bay, we fish the schools of mullet as the game fish will follow these schools. But over here on the east coast it's not the same. So not having any luck, we moved out to one of the many spoil islands that make up a great chin in the river. Here my buddy Norm found some small trout.
I hooked up a couple of times, pulled the hook on something that felt pretty nice but for the most part it was very slow for me. We called it a morning around noon and headed off to one of the local beach joints for a burger.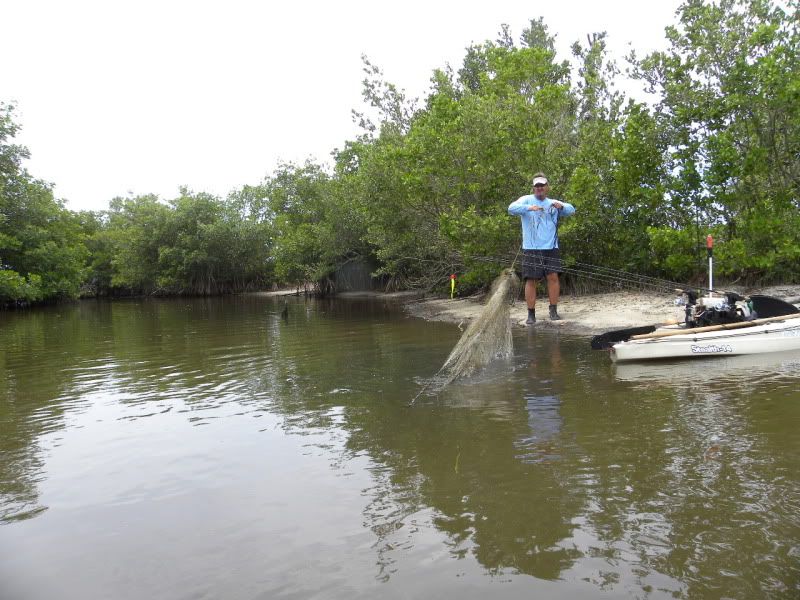 Friday morning came and we were off to another location, DJ Wilcox Preserve. Located on the west side of the Indian River, this was an area we fished last year. Although we didn't catch much last year, we did see some really nice fish, so we decided to give another try this year. Once on the water, we both noticed how stained and dirty the water was, they had been getting some really heavy rains in the afternoons which I believed led to the dirty water and slow fishing. What a slow day, I didn't see a single fish all day. Not wanting to burn ourselves out, we headed back in around lunch time and as we got back to the launch I paddled by a rope hanging from a tree. As I pulled on it I noticed that it was a discarded cast next, so I started to retrieve it. Apparently it had gotten caught on something and its owner gave up on retrieving it.
I figured I could use all the good karma I could get. So after loading up, it was off to lunch, a nap then the Captains meeting. The Captains meeting, where we signed in and received our DOA lures which we had to use the next day, was help at the River Palms Cottages. If you're ever in that area, I highly recommend them. Right on the Indian River, they have really nice cottages, and great beach with a good pier, they are dog friendly and just good folks. So after the meeting wrapped up, we were off. Just in time too as the heavens opened up and it stormed like crazy. We ended up at a place called Chucks Seafood. Located in Fort Pierce, right on the Fort Pierce inlet it has a great view of the water and excellent food.
Saturday, Tournament day!! Up bright and early with a game plan, we headed back to the preserve where we had fished the day before. This time we went straight out to the spoil islands and worked them. I finally found some fish, as my first trout of the morning was around 17". Not good enough here as 30" trout are very common. But at least I was on fish, so you never
know what can happen. I proceeded to catch around 30 more trout over the next few hours and then the bite died off. So making a move, I paddled back across to the flats looking for some redfish. But once again, nothing. I had never seen an area so teaming with activity but lacking in game fish. Switching locations yet again I did hook a bigger trout and as I got it close to the kayak I could tell it might be something worthy of placing. As I slipped the landing net under it, it made one last flip and just like that, it was off the hook and gone. And all too soon, the day was done and we were off to the weigh-in. After a lengthy raffle, which held some surprises of its own (a young man there proposed to his girl friend) the opened up the chow line and we got to eat some good catered BBQ.
Unfortunately none of west coast boys fared well, although we had hopes for our friend Mark Bellotte who landed a really nice 28.5" trout.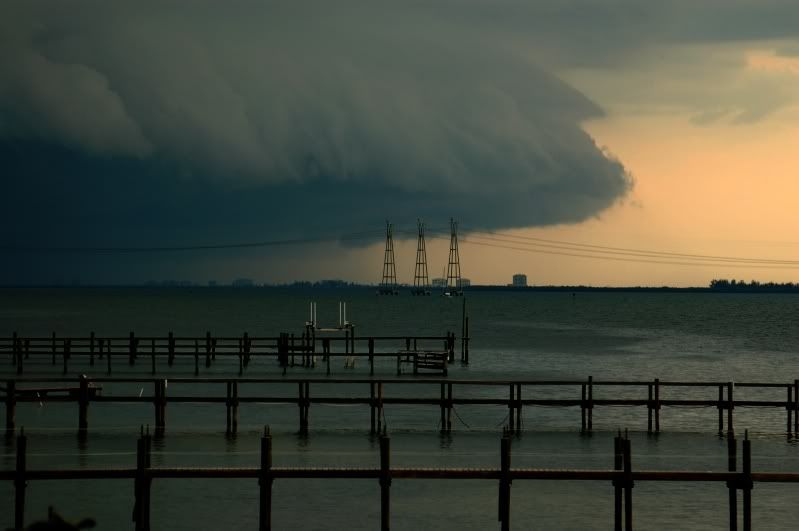 And all too soon, it was time to call it a day. On the way back to our villa, we ran into one of those afternoon thunderstorms that Florida is famous for.
Sorry for the lack of pictures, during tournaments I tend to focus more on the fishing and not taking pictures, maybe it should be the other way around. Oh well, we are already making plans to return next year. This tournament is more about getting away and hanging out with some good friends than it is about winning anyway. Until then……….