The increased usage of smart phones has led to the availability of vast amounts of applications to use on them. Apps can be anything from games to photo enhancers and beyond. There are many apps out there specifically for fishing, or at least can be used for that purpose. These apps can take the place of other electronic devices that are designed to do one thing.
An example of this is a GPS mapping app. I use the Navionics app for this purpose. This is a full service GPS nautical mapping application with a lot of features. The nav module allows you to create routes made of multiple waypoints starting with your current position. Along the way, you can take photos with your phone and add them to your waypoints for a visual aid. The tracking mode saves the start and end time, overall distance and average and max speed attained during your trip. The app saves up to 1000 tracks. Another cool feature of this app is the weather and tides feature. This allows instant access to wind forecasts, tides, currents and sun and moon phases at any location you choose.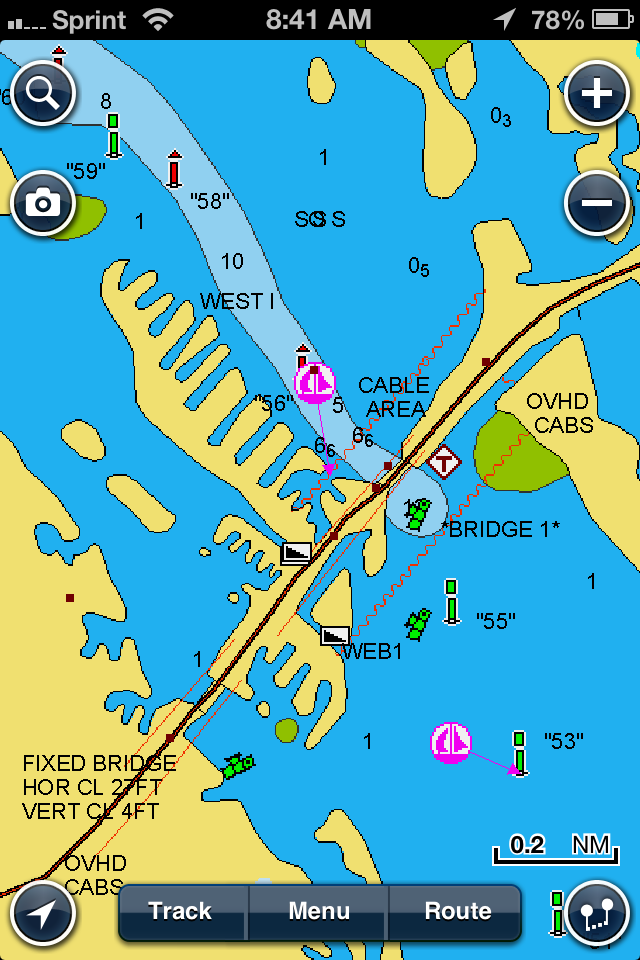 Another great app to have is MyRadar. This app tracks rain storms using Doppler radar stations from around the country. I use the free version and it's very accurate. In addition to radar, it will show cloud cover and you can choose road maps or satellite imagery overlays. This is extremely useful when out on the water as you can track where the rain is headed in relation to your position. Also, as you are at the launch waiting for the rain shower to pass, you can check if there is a break in the weather headed your way. The app also has settings for tracking hurricanes and allows for NWS warnings as well.
Hi Tide from Bad Basenji Software is another great tool for kayak anglers. This app offers instant access to tide predictions of over 2800 locations around the U.S. Some of the features include picking your tide station from a map, viewing tide data by line or graphs and setting prediction dates up to 2018. It also has sunrise, sunset and moon phases right on the graph.
Many of these apps have overlapping uses but you don't have to settle on any one. For example, Navionics has a tide predictor, but I like Hi Tide better. The ease of use allows me to use them both quickly and effectively anytime I am on the water.
Whatever phone you use, there is an app for that. Many are free or very low cost. Take the time to read about them and if you decide on one that looks right for you, learn all you can about it. The more you know about your apps, the more use you will get out of them.