While planning the SWFKAA annual tournament, I was very pleased to find out previous clients and very good friends Aaron Peters and Tracey Ziomek were planning a trip from California to Southwest Florida to participate. I offered to prefish the tournament with them and show them some of my spots. It was roughly a year ago when I put Aaron on his first redfish, and he was looking for a repeat, while Tracey was looking for her first.
They arrived on a Thursday evening and we met for beverages and to discuss the next day's fishing. Always the troopers, they wanted to launch at daybreak. We decided to fish the Hickory Pass area of Estero Bay on an incoming tide. The weather promised to be clear and our plan was set.
The next morning we arrived at the launch to flat calm water. The tide was moving in at a pretty good pace and there was bait popping the surface. We launched and peddled our Hobies into the backwater. We were in an area where I have had pretty good luck with redfish. I hooked up first with a small slot red on a gulp shrimp. We worked the area for a while I told them about the fish behavior and what they could expect on tournament day.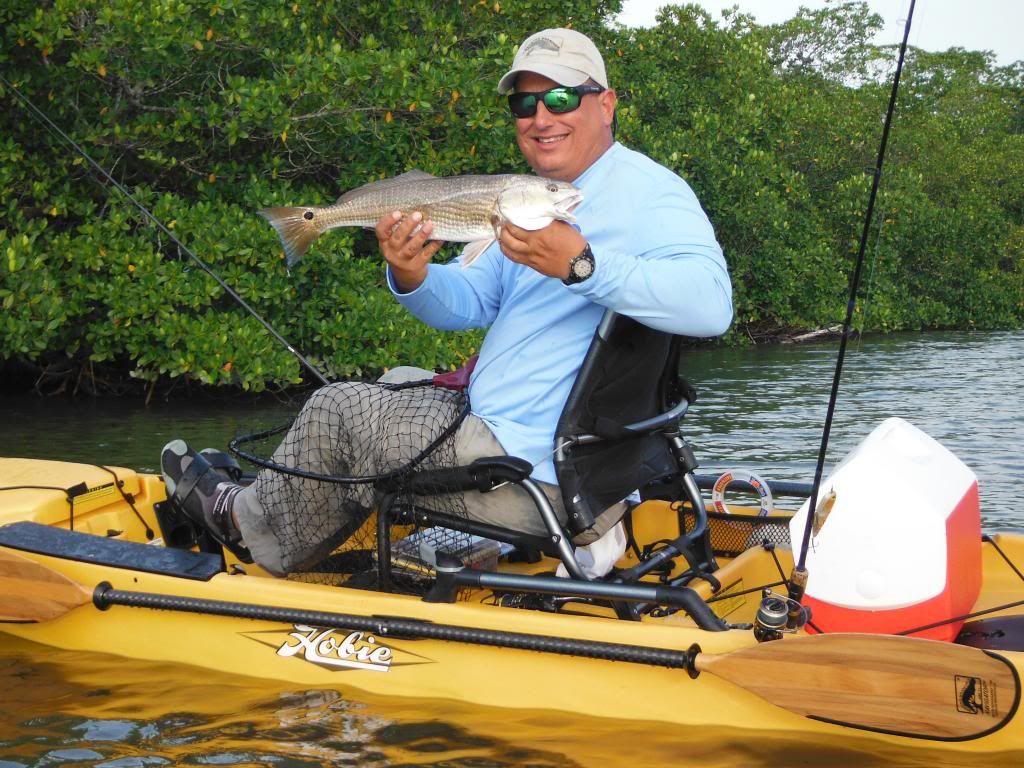 We moved out into an open area in the bay and Aaron hooked up on his first redfish of the day. It was small, but it gave him a good fight. As we moved along the mangroves, he would catch another small red, and he hooked up on a huge one. The fish threw the hook very quickly, but not before we saw the huge boil and a big copper flash under the water. That was enough to get Aaron and Tracey really excited.
After hitting the redfish areas, we went after trout. We found them pretty quickly and Aaron hooked up two of them. Tracey caught her own as well and we moved on to complete the slam. We fished the mangroves on the way back but couldn't find the snook. We were off the water early as I had to get ready for the tournament Captain's Meeting later that day. The next day, Aaron was able to complete the slam, catching another redfish, trout and finally finding the snook to finish 12th in the tournament. Tracey was also able to catch her first redfish and the both went back to California happy!