I usually write about the great inshore saltwater fishery we enjoy in Southwest Florida, but we have some excellent freshwater opportunities as well. The weather has been brutally cold up north and aside from the recent Boondoggle, most of my northern friends have not been able to fish for quite some time. I dedicate this blog to you folks who may be feeling a bit of cabin fever.
The freshwater fishery in Southwest Florida consists mainly of drainage canals and manmade subdivision ponds. There are a few natural lakes scattered around the region as well. Many of these bodies of water have been stocked with fish by FWC at some point. All of them are full of fish.
My sister Angie, her husband Carl and my brother in law Joe decided to go "pond hopping" in some of the local communities. We start by circling a pond while casting spinners, spoons or soft plastics along the edges. Once we circle one pond, we move to the next. We travel light and keep moving. It's a lot of fun and has produced some nice fish. This day was no different.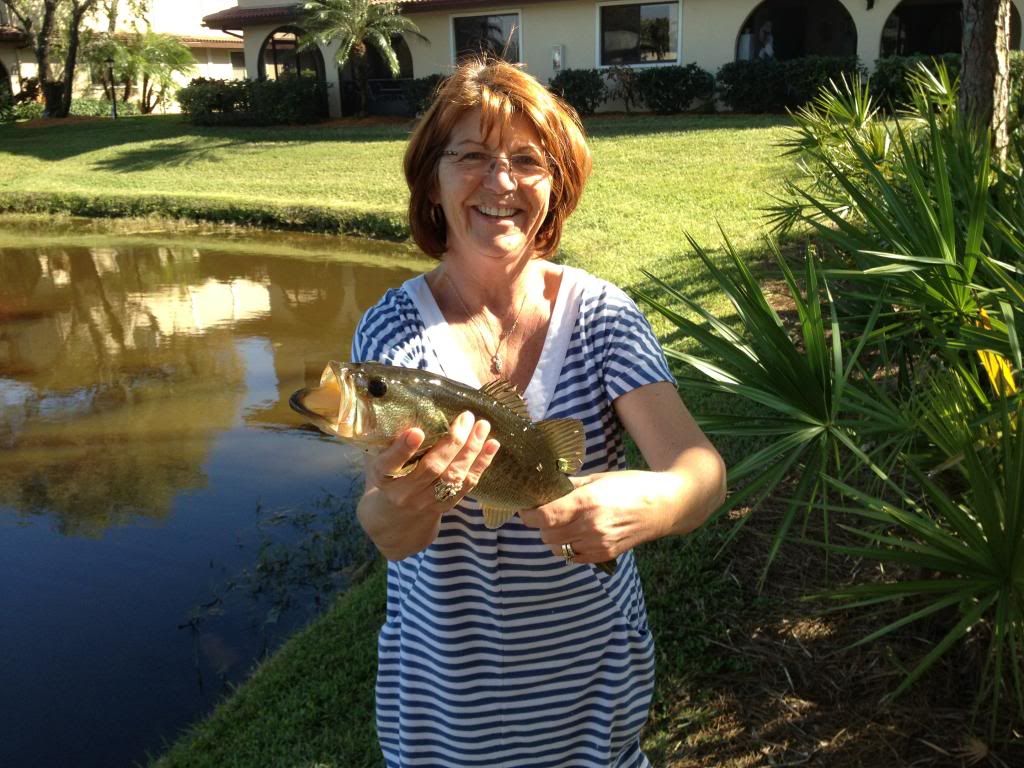 We began in Angie and Carl's neighborhood at a little pond I am very familiar with. Our target was largemouth bass, and we quickly struck gold. Cast after cast produced bass up to two or three pounds. As soon as we released one, the next cast would produce another. After we circled the pond, we moved on. We followed this pattern for a couple more ponds, and then we came to the largest pond in the community. Pretty soon, we were catching larger bass. These fish averaged around 5 pounds and were aggressive.
We had spent about two hours pond hopping and were ready to go have lunch. Joe said "I want one more cast" as he tossed his lure at a mostly submerged stump. There was a boil and his drag started going off! "Oh, that's a biggun!" he said as the line peeled off his reel. A big green five gallon bucket emerged and splashed around the surface in an effort to shake the hook. Joe kept the fish on and eventually brought him to the bank. Joe and I differ in opinion as to the size of the fish. I said 8.5 to 9 pounds. Joe estimates somewhere around 35 pounds! I guess we will just agree to disagree.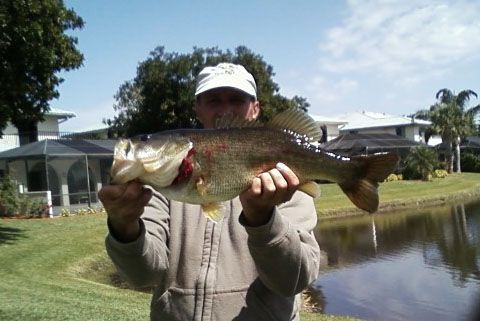 Most of the area freshwater ponds, lakes and canals have plenty of largemouth bass, crappie and bluegill, but many of them have other surprises as well. Landlocked snook and tarpon are common as are exotics like cichlids and oscars. Very large tilapia love taking a fly and peacock bass are making a comeback as well. So, when you decide to visit, don't forget your fishing rods, and don't forget to call me to go fishing!